Given money is such an abundant commodity in football nowadays, the game has become so much more than about just what happens between 22 players on a pitch for 90 minutes.
It is now a global market, and as such, perhaps should not come as a surprise that not every club's owner has shown as much or even business acumen as others, which has led to perilous consequences for some.
Here are five of football's biggest losses through business negligence:
Portsmouth
From the sublime to the ridiculous, less than two years separated Portsmouth from one of their greatest highs and deepest nadirs.
In May 2008, Harry Redknapp led Pompey to the second FA Cup in the club's history. Six months later, they were within seconds of a UEFA Cup victory over European titans AC Milan. From then on, though, their world caved in.
Living beyond their means for much too long inevitably caused things to come to a head, and in February 2010, with the club already languishing at the foot of the Premier League table, Portsmouth became the first top-flight team to enter administration and were docked nine points. They were inevitably relegated, amid reports of debts estimated at an eye-watering £70 million.
They then administration again two years later while in the Championship, were stripped of 10 points this time, and suffered demotion once more that season, and again from League One the following year.
They have slowly but surely fought their way back under first the Pompey Supporters' Trust, and then by The Tornante Company, owned by former Disney CEO Michael Eisner, but have yet to return to the second tier since.
Football Clubs That Went Bust
Bury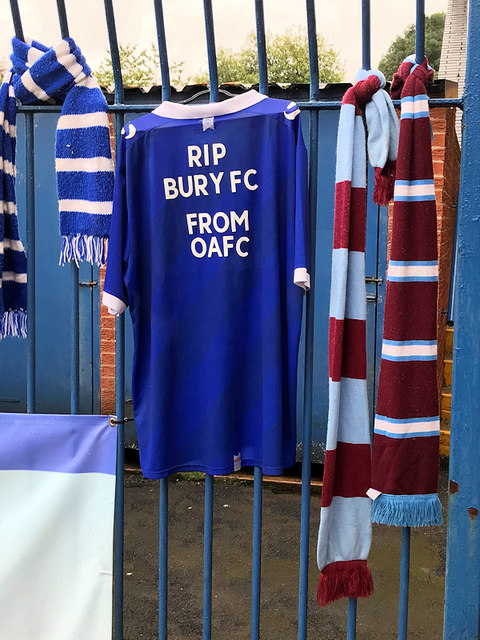 One of English football's oldest and proudest clubs, Bury FC ceased to exist in August 2019 after owner Steve Dale was unable to provide evidence of financial solvency for the 2019-20 season. Dale had bought them for just £1 the previous December and later admitted to not being interested in football or even knowing there was a team in Bury previously.
It came after the Shakers had won promotion back to League One at the first attempt the previous May, but was overshadowed by players going months without being paid and their first six games of the new campaign being suspended by the English Football League.
Outstanding creditors were not paid off and financial order was not restored in time, though. After an eleventh-hour bid from analytics company C&N Sporting Risk fell through, Bury were expelled from the EFL on August 27, 2019, in one of the saddest stories English football has seen recently.
Rangers
One of the Scottish Football League's 11 founder members in 1890, Rangers, along with Celtic, had dominated the country almost ever since, but financial struggles saw them ignominiously enter administration in February 2012.
Substantial outstanding tax payments were not made, and with estimated debts reportedly in excess of £130 million, Rangers were liquidated later that year, having been forced to start the 2012-13 in Scottish football's fourth tier, the Third Division.
They fought their way back to Scotland's top table, though; as a new company known as Rangers Football Club Ltd, the club were promoted three times in the following four years.
Parma
When Parma's parent company, food supplier Parmalat, went into administration with unprecedented debts said to be of about £14 billion, the football club were hamstrung so badly by this that they went bust in 2015.
Stories were told of players not being paid for the entire previous season, having to wash their own kit and drive the team bus, but immediately after ceasing to exist, the club were re-formed as 'phoenix club' under the name 'Parma Calcio 1913'.
They may have began life in Serie D, but under new ownership from Parma-based Nuovo Inizio (New Beginning), the club gained three successive promotions in as many years thereafter, returning to Italy's top league in the quickest time possible.
Darlington
In what must seem like an eternity ago now to their supporters, North East club Darlington have had their own fair share of heartache caused by financial ruin.
On the back of ambitious and ultimately failed approaches to sign international players like Paul Gascoigne and Faustino Asprilla, Darlington went administration in 2003, and then again in February 2009, and then, incredibly again in January 2012.
The club was saved from liquidation after supporters' groups provided a last-minute cash injection, and was taken over the following May by DFC 1883 Ltd. But a failure to agree a creditors voluntary agreement meant that Darlington was expelled from the FA and eventually wound up by the High Court.
DFC 1883 Ltd immediately formed a new club, starting in the Northern League Division One, before the FA approved their request to revert to their original name in April 2017, by which Darlington had made it to the National League North, two tiers below League Two.
Read More:
DISCOVER: Best Gifts for Football Fans