For as much as football in England may be dripping with wealth nowadays, these riches don't exactly trickle down the pyramid from the Premier League as much as you may expect, or as much as they probably should.
It is little wonder, then, that these 'solidarity payments' are under review – currently, £675,000 is given from England's top tier to League One clubs, (a fall from £690,000), and £450,000 to League Two clubs, (previously £460,000).
English Football League (EFL) clubs are receiving two per cent less each year because the Premier League's domestic TV rights fell by 7.5 per cent for the 2019-2022 period from £5.4 billion to £5 billion. As a result, among a whole host of other factors, many of them are facing serious financial worries.
Here are six of the deepest in the mire:
Bury
The most obvious club to start with, although of course, technically not a member of the EFL anymore.
Bury were expelled from the EFL in August 2019 after owner Steve Dale failed to meet an extended deadline to provide evidence of financial solvency for the 2019-20 season. Dale had bought the club for a mere £1 in December 2018 and admitted he was neither a fan football nor previously aware there was even a club in Bury. Not only that, but 43 of the 51 companies he had previously owned had been liquidated.
The Shakers had won promotion back to League One at the first attempt the previous May, but by the time they were expelled, players had reportedly gone months without being paid and their first six games of the new campaign were suspended by the EFL.
Outstanding creditors were not paid off and financial order was not restored in time, and after a late bid from analytics company C&N Sporting Risk fell through, Bury were removed from the EFL on August 27, 2019.
Following their expulsion, a working group led by Bury North MP suggested that Bury apply for a place in the National League for 2020–21, providing ownership issues were resolved, of course. A winding-up petition was then brought by HMRC on 16 October 2019, but was adjourned for two weeks to allow the club more time to settle with small business creditors.
Bolton Wanderers
Another club with similarly well-documented financial problems, Bolton's is at least a tale with a slightly happier ending.
The Trotters had faced off-the-field turmoil for the best part of four years; in December 2017, they were more than £170 million debt, and received a winding-up order for HMRC over unpaid taxes. Relegation to League One followed later that season, just four years after Bolton had been a Premier League club.
The financial state of affairs initially improved after a takeover from Dean Holdsworth's Sports Shield company in March 2016, by which time the club were heading for administration. Initially chief executive, Holdsworth become director of football at the start of 2016-17, but left the role less than a month later. Then, in January 2017, a public argument with chairman Ken Anderson over the sale of striker Zac Clough to Nottingham Forest saw him sell his share of the club to Anderson two months later.
Under Anderson, despite returning to the Championship, Bolton's money issues resurfaced, with unpaid loans, winding-up orders and threats of administration or points deduction becoming commonplace in late 2018. Administrators eventually took over in May 2019 following an unpaid £1.2 million tax bill.
After relegation back to League One, Bolton were issued with a 12-point deduction, and a mass exodus of players saw their threadbare squad of youth players repeatedly hammered in the early weeks. Though, thanks to a late takeover from Football Ventures Ltd, they avoided going the same way as Bury in August 2019.
But an exclusive from The Athletic in early October 2019 revealed that some of the club's outstanding creditors had still yet to be paid, so their financial problems may not be entirely solved yet. Either way, the drop to League Two looks a certainty.
Macclesfield Town
On the final day of the 2018-19 season, Macclesfield completed the great escape. Having looked doomed at the foot of League Two when Sol Campbell was appointed manager in November 2018, seven points adrift, a 1-1 draw with Cambridge secured their status.
But it was also the day when a number of their players had threatened to boycott the game, having not been paid for three months. Six of them issued a winding-up order against the club, which was taken over by HMRC, while an outstanding tax bill was not settled until June 2019.
In October 2019, the Silkmen playing staff again went unpaid, appealing for help from the EFL and saying they find themselves in a similar predicament to that which beset Bolton and Bury.
Oldham Athletic
Since Moroccan football agent Abdallah Lemsagam took over at Oldham Athletic in January 2018, the club has suffered one relegation and the threat of another, seen six different managers, and has damaged relations with its fan base even further.
Even before his arrival, the club had encountered recent issues. In the two years prior, Oldham received numerous winding-up orders due to unpaid tax bills, and saw their ground raided by HMRC in November 2017.
Then, in the summer of 2018, Lemsagam spent about £500,000 and doubled the wage bill. Since then, reports of late wage payments, as well as mistreatment of staff have been constant, as has a lack of transparency from the top.
Little wonder, then, that Paul Scholes walked away from the hot seat in March 2019 after 31 days, and little wonder that the fans have called from Lemsagam to sell the club.
Coventry City
With battles against ownership and against being forced to move house, Coventry City have been embroiled in off-the-field turmoil for the best part of the last decade-and-a-half.
First, London hedge fund company SISU Capital Ltd, who saved the club from administration in 2007, have been the subject of mass fan protests due to their perceived cost-cutting approach. Fans have gathered outside their stadium, the Ricoh Arena, chanting 'Sisu Out' since 2011, while in October 2016, supporters threw plastic toy pigs on to the pitch at The Valley during a game at Charlton Athletic.
Though Mark Robins has revitalised Coventry on the pitch, earning an instant promotion back to League One in 2018, troubles off the field have continued. SISU remain at the helm, and then there is the ongoing issue of them being unable to play at the Ricoh Arena.
In 2013, they were forced to play home games some 70 miles away at Northampton Town's Sixfields Stadium, which lasted until November 2014. Then, for the 2019-20 season, their home will be Birmingham's St Andrews Stadium, 38 miles away, having failed to reach an agreement with ground sharers and owners, rugby club Wasps.
The club's parent company, Sky Blue Sports and Leisure Limited, also recorded a loss of more than £1.5 million in the year up to May 31, 2018, while the club were in League Two.
Southend United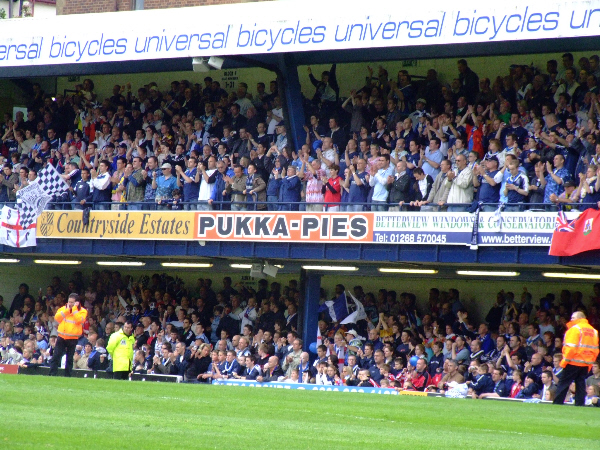 In the last decade, Southend have been issued with more than ten winding-up orders, including two in 2019 alone.
The club have suffered such problems since 2010, when chairman Ron Martin re-mortgaged his home to save them, clearing a tax debt of in excess of £300,000 in the process.
Shrimpers fans had hoped these dark days were gone after Ron Martin settled the last outstanding tax bill in May 2016, but they have majorly resurfaced in 2019, and in April, it was reported that players and staff were not paid their wages on time.
Read More:
DISCOVER: Best Gifts for Football Fans