With English football returning on June 17 after more than three months of pandemic stopping play, the Premier League will take a largely different format in the remaining games of this elongated 2019-20 campaign.
Here are the many ways in which the top-flight will look rather unusual during the Project Restart era:
How Many Premier League Substitutions Are Allowed During Coronavirus?
Rather than the 'normal' allowance of a maximum of three subs being brought on from a bench of seven, Premier League clubs can now name nine players on the sidelines and introduce as many as five into matches.
This regulation change, which was approved by clubs in early June, is only planned to be in place until the 2019-20 season ends, though, due to concerns that the little preparation time Premier League players had in the build-up to the restart could lead to more injuries.
They can't change the 25-man squads they submitted in February, though, and only three subs from one team are allowed to warm up simultaneously. The manager can also only make alterations on three occasions, not including at half-time.
Though, not everybody seems best pleased. Prior to the restart, for instance, both Aston Villa manager Dean Smith and Sheffield United boss Chris Wilder voiced their opposition, with Wilder saying: "It favours the powerful clubs. We don't think that is the right way to go about it."
Can Fans Gather In Or Around Stadiums On Matchdays?
No. You probably already knew the answer to this, but all matches will be played behind closed doors to help limit the potential spread of coronavirus, a disease with which more than 40,000 people (at time of writing) have died in the UK already.
The Premier League has also adopted the slogan "Support Your Club. Stay Safe. Follow At Home" to discourage fans from congregating in the vicinity of stadiums.
A select few remaining matches, such as the Merseyside derby, were highlighted as potentially risky fixtures in this regard, and were rumoured to be played at neutral venues to alleviate the risk, but these worries appear to have subsided.
So, How Populated Will Stadiums Be On Matchdays?
As little as possible. Most Premier League clubs have a large number of matchday staff that extends far beyond the coaches and players (stewards, kiosk workers, hospitality, etc.) but the aim is to only use 'essential staff' on game days.
Grounds will be divided into three zones – red, amber and green. The Red Zone includes the pitch, technical area, tunnel and dressing rooms, with no more than 110 people allowed in this part of the ground,
Those in the Red Zone, the Premier League have said, must have a "clinical passport – a bar code either as a print-out or on their phone. This is scanned to check their most recent test result is negative before they can enter the stadium."
The Amber Zone covers all of the inside of the stadium excluding the Red Zone sectors. (e.g. stands, concourse, interview areas). To gain access, you must have completed a medical questionnaire, and have your temperature checked upon arrival.
And finally, the Green Zone comprises the area outside the stadium, where access control points, vehicle parking and outside broadcast compounds are found.
How Will Players And Staff Travel To The Stadium?
Players and staff must still undergo daily screening, and before leaving for a match, they must complete relevant checks for COVID-19 and report any symptoms.
Teams can travel to grounds by car, coach, plane or train, but must ensure that whatever mode of transportation they choose is a sterile environment.
Social distancing must still be observed, and those making their own way to stadiums should do so alone.
What Will Happen Upon Arriving At The Stadium?
When they reach the ground, players and staff will be given a 'sterile route' into the dressing room. All dressing rooms must be big enough to ensure social distancing can still be put into practice.
Teams are also being encouraged to stagger the use of their changing rooms, while showers can be used, providing individuals remain far apart enough from one another.
How Will Walking Through The Tunnels Work?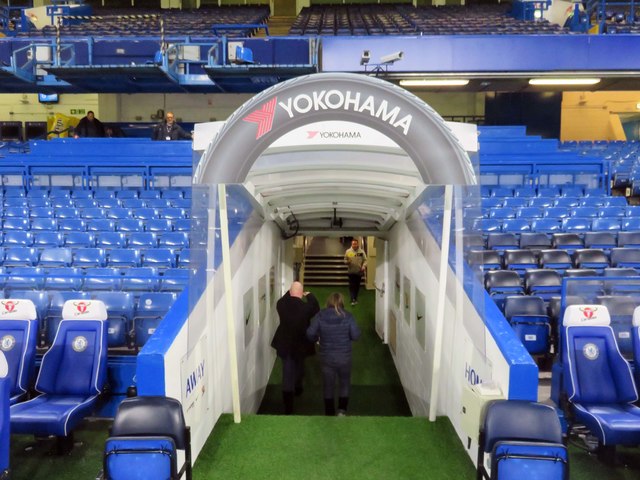 If there's only one tunnel at the stadium, the away team's players will enter the pitch first, followed by the home side. When they line up for the Premier League anthem, players will now stand in a staggered formation. Pre-match handshakes between the two teams will no longer happen, either.
How Will Pre-match Routines Change?
When warming up before games, players and staff should ensure close contact to a minimum, while pitch access will be restricted.
Hand sanitiser should also be used before and after every match.
Benches will be expanded to enable social distancing, including using seats next to the bench or reallocating seats to ensure the required distance is observed. Those in the technical area must maintain social distancing, with zones marked out to guide them.
Can Players Still Celebrate After Scoring?
Yes, but players and staff must keep their distance during goal celebrations, as we saw particularly in the early weeks of the Bundesliga's return.
Spitting or nose-clearing on the pitch is also forbidden, as is surrounding match officials or mass confrontations during the match.
Will There Be More Drinks Breaks Due To Warmer Weather?
Yes. To accommodate playing in June and July (although knowing English summers, it's not a given they'll be that hot…) drinks breaks will be allowed midway through each half, lasting no longer than one minute.
Players must, of course, only drink from their own bottles. The time taken for the break will be added to the end of the half.
Will Ball Boys Still Be Present At Matches?
No. So as to limit the number of on-site workers, spare match balls will be placed around the pitch in case one can't be retrieved quickly without holding up the game.
Will Face Masks Be Compulsory?
Unlike in Germany with the Bundesliga, no. Playing and non-playing staff will not be forced to wear protective face masks, though they are reminded to adhere to social distancing whenever possible.
Backroom staff will also stay seated throughout games and physios will wear Personal Protective Equipment (PPE) if they need to enter the pitch to treat an injured player.
A paramedic crew of two people will be in the Red Zone and clubs should name two members of Red Zone staff to act as stretcher-bearers if needed for a seriously injured player.
How Will Refereeing and VAR Work?
VAR will still be operating as normal for matches at Stockley Park, though the VAR Hub configuration will change to allow for social distancing.
Match officials are also being tested as regularly as players, and will follow the same protocols before, during and after games.
Any Gestures to the NHS or Black Lives Matter?
Several. For starters, Premier League players' names will be replaced on the back of their shirts with 'Black Lives Matter' for the first 12 matches of the restarted season.
The League will also back any player who decides to 'take a knee' before or during games as a show of solidarity with those protesting about the death of George Floyd, as has been the case in the Bundesliga already.
A Black Lives Matter badge, designed by Troy Deeney's girlfriend, Alisha Hosannah, will will feature on all playing shirts for the rest of this season. So too will an emblem to thank all staff at the NHS for their tireless, invaluable work during the COVID-19 pandemic.
What Happens After The Match?
Players 'warming down' after games should do so for no longer than 25 minutes. These are also expected to be staggered for each team, while interaction with opposition players and staff will also be restricted.
Therapy after games is permitted, though lasting only 15 minutes at most. All recovery strategies for the players must also be completed at home.
How Will Grounds Look and Sound?
To the swathes of us watching on television, this will truly be the Premier League like you've never seen it before.
Stadiums will now include a wrap covering seats in the lower tiers, designed by each club to improve the environment aesthetically and acoustically.
Clubs can also use music at key moments such as the kick-off, goals and substitutions by the home club, and fans at home can watch games with added crowd noise through the TV, this will not be audible at the ground.
Tunnel cameras will enhance the build-up experience for fans, while viewers will also be able to listen in to the pre-match coin toss, too.
Read More:
DISCOVER: Best Gifts for Football Fans